PM Kisan Samman Nidhi Yojana List 2022
(Status) Check Payment Status Using Phone no., Account no, Adhar card no.
PM Kisan Samman Nidhi Yojana List 2019: After the budget announcement of PM Kisan Samman nidihi yojana, there was wave of happiness among farmers of India. Now those who were interested can check their name in PM Kisan Yojana Beneficiary List 2019. Under this scheme, farmer will get Rs. 6000 in three installments. Those who are eligible under Kisan Samman Nidhi Yojana Beneficiary list will find their name. To download the pm kisan.nic.in.list, citizens can follow these steps or visit the direct link provided below.
Check beneficiary status Correct name as per Aadhar and know about the scheme. The Government of India launched a new Central Sector Scheme, "Pradhan Mantri KIsan SAmman Nidhi (PM-KISAN)" in order to augment the income of the Small and Marginal Farmers (SMFs). The scheme was launched in February 2019.
Many measures are being taken by the Government to reach to all eligible beneficiaries under PM-KISAN. Public interfaces have been made available for self registration, checking the payment status, Correction of the name as per Aadhaar as it is being mandatory requirement of the scheme. To broaden the reach further, the PM-KISAN mobile app designed and developed by National Informatics Centre (NIC), Ministry of Electronics and Information Technology, Government of India is being launched.
Using Mobile app, farmers can
-
Know the status about their registration and payments
-
Correct name as per Aadhaar
Details required to apply for assistance:
Farmer's name, village, taluka, Aadhaar number, category, IFSC code and bank account details
.
What can a farming family do to benefit?
Account holders who want to avail the benefit of this scheme should apply online on the portal
Apply through a service provider such as Village Computer Entrepreneur (VCE), Milk Society, Cooperative Society, any other government or cooperative organization / person.
PM કિસાન યોજના 12 મો હપ્તો ચેક કરવાની લીંક
BENEFICIARY STATUS CHECK HERE- 2000 હપ્તો ચેક કરવા માટેની લીંક
The applicant will have to take a printout of the form and the attached agreement along with the details and submit a copy of the check or passbook and a self-certified copy of the Aadhaar card to the data entry center for bank account details. Talati will have to collect all the details / documents. If Aadhaar card number is not available as the first installment of the first year of implementation of the scheme, then Aadhaar enrollment number, driving license, election card etc. will have to be given as identity card. But then Aadhar card as well as Aadhar seed bank account details will have to be given compulsorily.
If the person named on the land record from the land holding farming family is not in the village or does not live in the village, another adult member of the farming family can submit a contract on their behalf. For which the person making the declaration will have to mention his name and his relationship with the land holder below the contract.
Applications will be considered eligible for assistance after approval in the Gram Sabha
Institutional landholders
One or more persons belonging to the land holding farmer family who are included in any of the following.
1. A person holding all current and former constitutional positions
2. Current and former Minister / Minister of State, Current and former Member of Lok Sabha / Rajya Sabha / Legislative Assembly, Current and former Chairman of District Panchayat
3. Serving and Retired (All) - Regular (Multi-Tasking Staff /) of Central and State Government Ministries / Offices / Departments and its Regional Offices, All Public Enterprises of Central and State Governments, All Autonomous and Affiliated Institutions under Central and State Governments as well as Local Bodies.
To increase the income of small and marginal farmers (SMFs), the Government of India has launched a new Central Sector Scheme, "Pradhan Mantri Kisan Sanman Nidhi (PM-Kisan)".
The scheme was launched in February 2019. It is implemented by the Department of Agriculture, Co-operation and Farmer Welfare (DAC and FW) and the Department of Agriculture of all the States and Union Territories under the Ministry of Agriculture and Farmer Welfare. Under the scheme, Rs. 6000 in three equal installments of Rs. 2000 every four months in the bank accounts of eligible landholder families..
PM Kisan Samman Nidhi Yojana List 2019
PMKSY list is now available online and can be view below. PM Kisan Nidhi Yojana is for small and marginal farmers for helping in financial condition for purchase of seed, fertilizers etc. PM Narender Modi inaugurated the scheme on 24 Feb 2019 under which Modi Ji transferred first installment money of Rs 2000 to few farmers directly via wire to their respective bank accounts. Total of Rs 6000 amount is to be distributed to the farmer in 3 sessions. The government of India under the leadership of PM Modi announced about this scheme in Budget 2019-20.
Cloud data security is important because you want to make sure that your data is protected while being stored in the cloud. Many high-profile hacking cases mean that this problem is relevant to many business owners, but the reality is that your data in the cloud is much safer, and security for all cloud storage services is a very high priority. Enterprises moving to the cloud require reliable cloud security. Security threats are constantly evolving and becoming more sophisticated, and cloud computing is no less at risk from the local environment. Cloud storage lets you store your data in cloud storage, not space or surroundings. Some companies are still taping or storing their data backups or storing them at the nearest remote location. In the event of a local failure, this may result in both backups being destroyed. Cloud security prevents this problem because data is stored in remote locations, protecting your business from the risk of data loss. For this reason, it is important to work with a cloud provider that provides the best-in-class security system configured for your infrastructure.
For the disbursement of money, state government had started preparing list of beneficiaries and now they have released the PM Kisan Nidhi yojana list 2019 online. Money is to be distributed from March 2019 and the last date to deposit the money in farmer account is 31st March. If by that date, the farmer does not receive it, complain and direct contact can be made to authorities.
Check PM Kisan Saman Nidhi yojna Payment Status Using following detail :::
PM Kisan Yojna status Using Adhar card no.
PM Kisan Yojna status Using Account no.
PM Kisan Yojna status Using Mobile no.
IMPORTANT LINK::::
The first level of cloud protection is provided by security groups. This is the most fundamental aspect of centralized public cloud security management. The security group manages the rules that allow traffic. Contrary to traditional firewalls, who control traffic based on the rules of permission and denial, security groups only accept the rules and should not rule out the rules. There are no rules to restrict movement; The absence of permit rule works as a rebate.
Cloud security groups are really reminiscent of the firewalls we had in the 90s. In those days, host-based firewalls were located on the server itself, and if you cracked the server, you also got access to the firewall's security settings. Similarly, the first level of cloud security is directly related to the server (for example, in the context of cloud architecture). In the case of older firewalls, after entering an instance, the management of the associated security group (s) becomes available, posing a significant risk that could endanger the security status of the cloud. In this way, enterprises use more stringent cloud-based network security management
tools.
pm kisan scheme::
Under this scheme, farmer will get Rs. 6000 in three installments. those that ar eligible underneath Kisan Samman Nidhi Yojana Beneficiary list can realize their name. To check the pm kisan.nic.in.list, citizens can follow these steps or visit the direct link below.
Pradhan Mantri KIsan SAmman Nidhi (PM-KISAN) Objectives
With a view to reinforce the income of the tiny and Marginal Farmers (SMFs), the govt has launched a replacement Central Sector Scheme, namely, "Pradhan Mantri KIsan SAmman Nidhi (PM-KISAN)" within the current fiscal year .
The PM-KISAN scheme aims to supplement the financial needs of the SMFs in procuring various inputs to make sure proper crop health and appropriate yields, commensurate with the anticipated farm income at the top of the each crop cycle.
This would also protect them from falling within the clutches of moneylenders for meeting such expenses and ensure their continuance within the farming activities.
How To Check PM Kisan Beneficiary Status And List?
PM Kisan Official Website
After clicking on the eKyc option, a new page will open in front of you.
Here you will have to enter your Aadhaar number, after that click on the search button.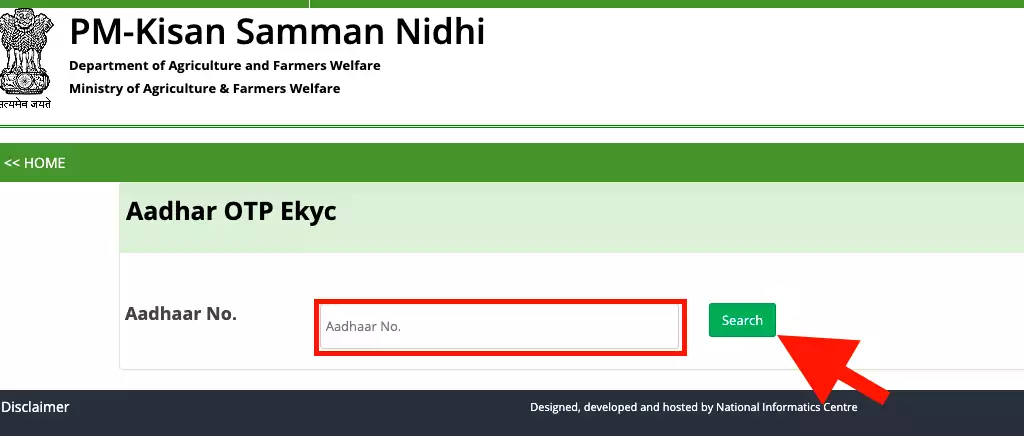 After clicking on the search button, a dialog box will open in front of you in which you have to enter your mobile number, after that click on Get Mobile OTP (One-time password) option.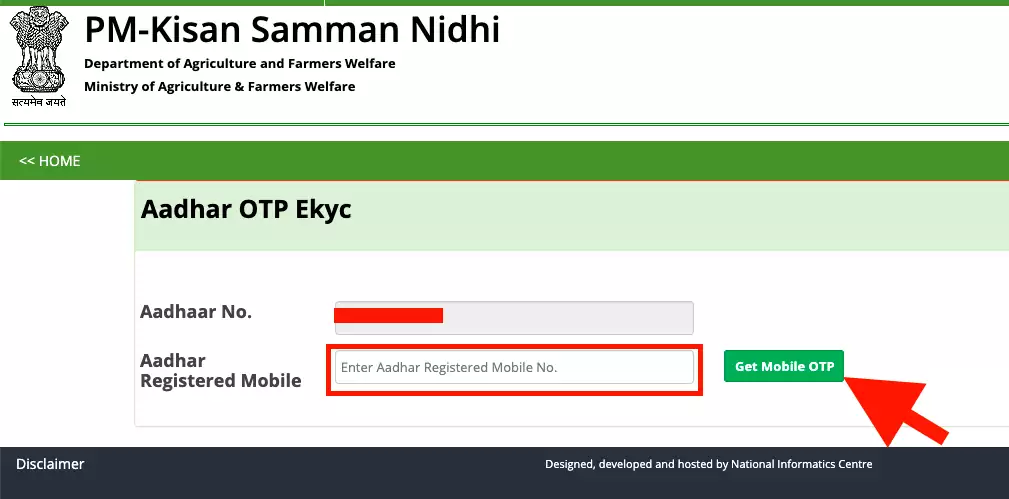 On the next page you now have to verify the ekyc one-time password (otp) .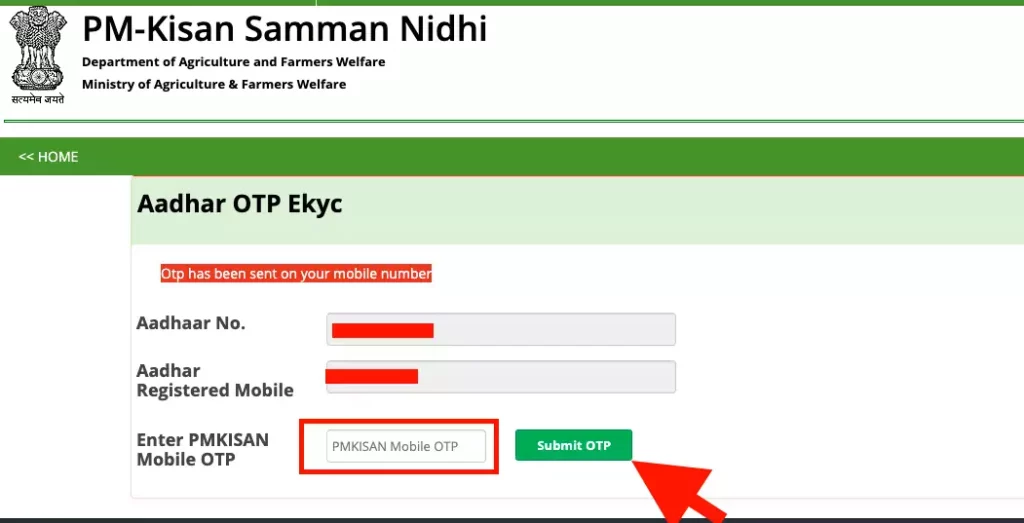 After Mobile OTP Verification (Verify) a second OTP will be received on the mobile number registered in Aadhaar, you have to verify the same here.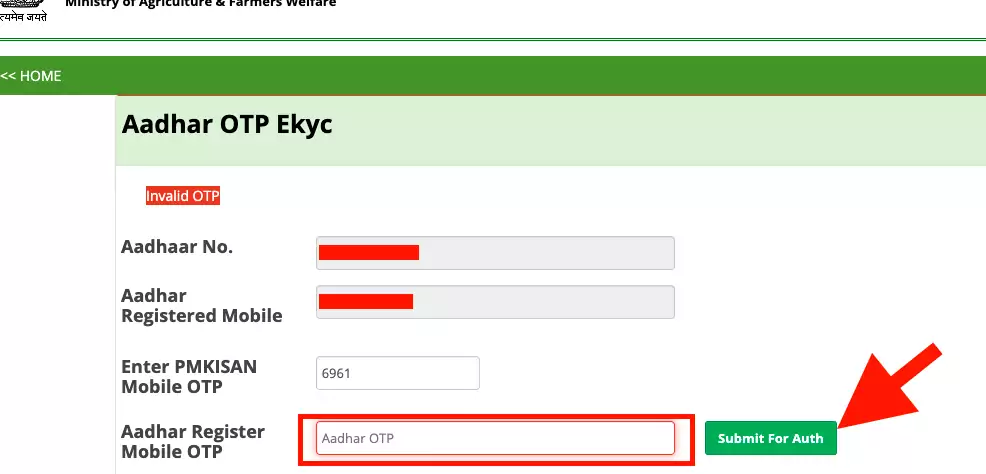 After verifying the Aadhaar registered mobile OTP, you have to click on submit for auth option.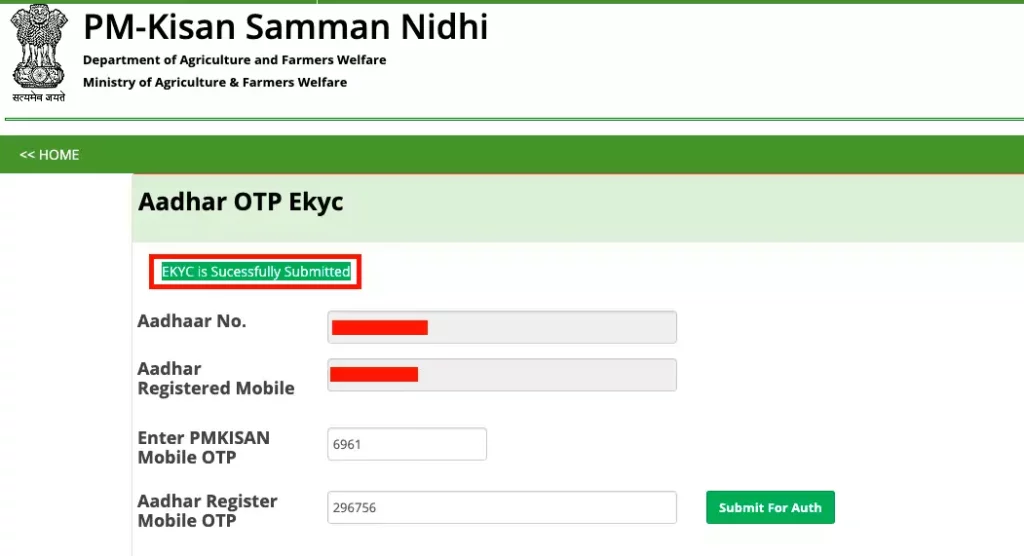 In this way now ekyc will come on the screen by writing sucessfully submitted, that means your ekyc process will be completed.
In this way now your Kisan Samman Nidhi ekyc has been updated. ― Check Your Name In PMKISAN Sanman Nidhi Yojana
How to do CSC Center PM Kisan E-KYC ?If you want to get your e-KYC done by visiting your nearest CSC center, then you can do it by following the procedure given below-
To get your ekyc done at CSC center, you have to first go to its digital service portal.
After coming on the dashboard, you have to search PM Kisan Seva.
After this you click on Biometric / OTP KYC PM Kisan option.
Now the farmer's Aadhar card number will have to be loaned.
Now click on submit and authenticate button to do biometric of farmer.
Take the fingerprint of the farmer on your biometric machine and then submit it.